Why Are My Brakes Making a Grinding Noise?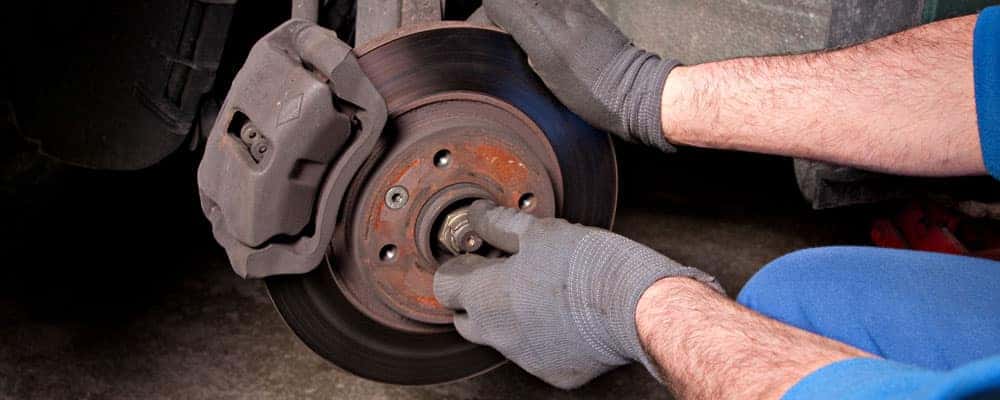 The commonest brake noise one can hear is the grinding sound. But what's wrong? Learn about the usual reasons why your brakes are making a grinding sound here at Juneks CJDR by Sturgis.
1. Old Brake Pads
The brake pads of your Jeep Compass are designed with grooves that create a noise when the pads begin to wear down. The grinding you may hear when driving to your favorite Rapid City restaurant may mean it's time to take your Chrysler, Jeep, Dodge, Ram into the service bays. Failure to get your brake pads serviced quickly may lead to ruining your brake rotors – a costlier repair.
2. Bad Brake Pads
There's a big difference in the quality of OEM parts vs. aftermarket parts, including durability and performance. If you purchased aftermarket brake pads instead of OEM brake pads from Juneks CJDR, then there's a good chance your brakes could be grinding prematurely because they're not up to snuff.
3. Something is Stuck in the Brakes
Dirt and grime stuck in the brakes may lead to a grinding sound. Larger objects such as rocks and small sticks can also get stuck between your rotors and calipers. This causes a grinding sound to occur, also. So, before you head out of Spearfish city limits, you may want to inspect your brakes: is something stuck there?
4. Other Causes
While the above causes are some of the most common, there are also several other possibilities causing a grinding sound coming from your brakes, including:
Old rotor discs
Infrequent driving
Bad wheel bearing
Lack of proper lubrication
Schedule Brake Service Near Rapid City with Juneks CJDR!
If you're hearing a grinding sound coming from your brakes, bring it in for brake service today at Juneks CDJR, your service center located in the heart of Spearfish, SD. Explore our service specials before you stop by; we may have brake service deals available. You can also contact us online.
Related Posts from Juneks CJDR
First things first: what does a serpentine belt do? Well, it powers your alternator, air conditioning compressor, power steering pump, and more. Spearfish drivers: read on to learn what happens when you ignore nagging serpentine belt issues, and read on to learn when to replace it. Trust the service experts at Juneks CJDR. Mopar vs. Aftermarket…

The commonest brake noise one can hear is the grinding sound. But what's wrong? Learn about the usual reasons why your brakes are making a grinding sound here at Juneks CJDR by Sturgis. Why Schedule Service with JuneksContact Service 1. Old Brake Pads The brake pads of your Jeep Compass are designed with grooves that create…

Service Department Mopar Parts vs. Aftermarket Parts Many owners of Chrysler, Jeep, Dodge, and Ram vehicles around Sturgis know they can count on the professional CJDR service center at Juneks CJDR. See why so many drivers trust our service department for their auto maintenance and repair needs. 1. Extended Hours As of July 7th, 2018,…