What is a Serpentine Belt?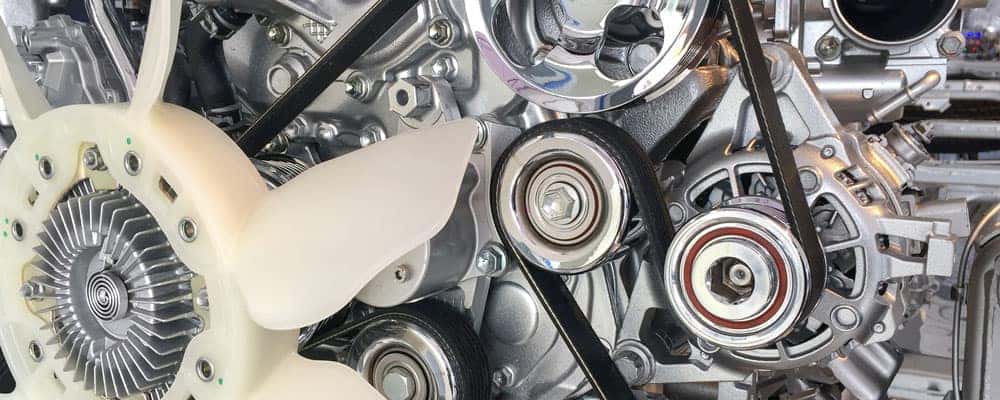 First things first: what does a serpentine belt do? Well, it powers your alternator, air conditioning compressor, power steering pump, and more. Spearfish drivers: read on to learn what happens when you ignore nagging serpentine belt issues, and read on to learn when to replace it. Trust the service experts at Juneks CJDR.
How Long Do Serpentine Belts Last?
Serpentine belts, in general, last between 50,000 and 100,000 miles. Of course, the lifespan of your serpentine belt depends on the conditions under which you drive. Do you off-road frequently, or do you just drive leisurely around town? No matter the case, you should check the warning signs.
What Happens if I Don't Replace My Serpentine Belt?
Failure to replace your serpentine belt in a timely way is, of course, not good for the lifespan of your vehicle. You may risk the failure of your alternator, air conditioner, and power steering systems.
How Do I Know it's Time to Replace My Serpentine Belt?
Well, now you know the potential costs if you don't replace your serpentine belt. But how do you know when it's time to replace it? You'll want to keep your eyes peeled for the following symptoms:
Squealing, squeaking, or chirping sounds coming from under the hood
Power steering or air conditioning problems
Wear on the rubber of your serpentine belt
Outright vehicle failure
Get Your Vehicle Serviced with Juneks CJDR!
If you've experienced any of the issues listed above, it's likely time to bring your vehicle in for a serpentine belt replacement at Juneks CJDR. Explore our service specials here – we've got plenty from which to choose. Got questions about servicing your Chrysler, Jeep, Dodge, Ram Then contact us online for answers!
Related Posts from Juneks CJDR
First things first: what does a serpentine belt do? Well, it powers your alternator, air conditioning compressor, power steering pump, and more. Spearfish drivers: read on to learn what happens when you ignore nagging serpentine belt issues, and read on to learn when to replace it. Trust the service experts at Juneks CJDR. Mopar vs. Aftermarket…

The commonest brake noise one can hear is the grinding sound. But what's wrong? Learn about the usual reasons why your brakes are making a grinding sound here at Juneks CJDR by Sturgis. Why Schedule Service with JuneksContact Service 1. Old Brake Pads The brake pads of your Jeep Compass are designed with grooves that create…